About a Birthday Party

Information

Season 1, Episode 11
Episode Information
Air Date:
May 6, 2014
Viewership:
6.04[1]
Prod. Code:
111
Written by:
David M. Israel
Directed by:
Michael Weaver
Episode Chronology
Previous Episode:
"About a Boy's Dad"
Next Episode:
"About a Hammer"
About a Birthday Party
is the eleventh  episode of
About a Boy
.
[2]
 It aired on May 6, 2014.
Overview
[
]
Will does his best to throw the best birthday party ever, but learns that it is not as easy as it sounds. Marcus  is excited for his first ever big birthday party and Will  agrees to help plan it. But complications arise when Sam asks Will to a gala at the hospital, creating a scheduling problem. To make matters even worse, Will and Andy discover that one of Marcus's popular classmates is having a birthday bash on the same day. Meanwhile, Fiona  and Sam get into a disagreement, and Will finds himself stuck in the middle. 
Episode Summary
[
]
Dr. Sam invites Will to an important work party. It's her way of evolving their relationship to a more serious status, and Will is slightly nervous about it. As Marcus invites Will to his birthday party, Dr. Sam tries to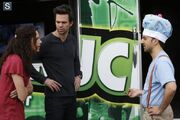 convince Fiona to get Marcus an allergy test before she declares him gluten intolerant. Fiona dismisses the advice since she's more concerned with avoiding another catastrophic birthday party for Marcus. Will assures her that he's on the case.
Will heads to Marcus' school to invite the cool kid, Jackson, in hopes that his presence will ensure the party's success. Jackson says he'll be attending another student's party instead, because it's going to be much better. Will takes this as a personal challenge. He's going to throw Marcus the best party ever!
When Marcus runs his own allergy experiment (eating three hot dug buns) to determine if he's actually gluten intolerant, Fiona is not happy about it. Later, Will lays out his birthday party plan for Fiona. Predictably, she's not into it. Will's challenge will be tougher than he thought.
Will learns that Fiona has rescheduled Marcus' birthday party for Sunday afternoon, the same time as Dr.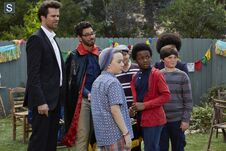 Sam's gala. He'll deal with that later, though. His first mission is to secure a video game truck for the party. Fiona doesn't like the video game idea, but Will explains that he won't be able to attend Marcus' birthday party and the video game truck will ensure a great party in his absence. Will breaks the bad news to Marcus: he won't be able to attend the birthday party. Marcus doesn't take it well.
On Sunday, Will heads to the gala with Dr. Sam. At the party, he begins feeling guilty and decides to head to the birthday party instead. Dr. Sam is incredibly upset, but Will leaves before they have a chance to discuss his departure. Marcus' party is not going well. Andy performs some magic tricks, but the small group of partygoers is not impressed. Will arrives in the nick of time to stir up the party, but it doesn't help. Luckily, Dr. Sam shows up to fulfill Marcus' lifelong dream of riding in an ambulance.
After the festivities, Will gives Marcus his birthday present: a hammer and a pile of wood to build a tree house. Fiona isn't thrilled, but Marcus decides that he has had a wonderful birthday thanks to Will's efforts.
Cast
[
]
Main Cast
[
]
Guest Cast
[
]
Trivia
[
]
Table read was on March 9, 2014.
Filming started on March 10, 2014 [5]
Filming ended on March 14, 2014.
Featured Music
[
]
Quotes
[
]
Sam: So who gets the last waffle?
Will:Oh, I see you should go to the person who was the most sexually last night.
Sam: I agree.
Will: Wow, you were good, but I was better.
Marcus: Hey! Will.
Will: Oh hey, hey buddy, busy times, busy times.
Marcus: I just wanted to reminde you that my birthday is this saturday.
Will: Got it well, will see you later.
Marcus: Hi doctor Sam.
Gallery
[
]
To view the About a Birthday Party gallery, click here.
References
[
]