About a Boy's Dad

Information

Season 1, Episode 10
Episode Information
Air Date:
April 29,2014
Viewership:
6.25[1]
Prod. Code:
110
Written by:
Sarah Watson
Directed by:
Wendey Stanzler
Episode Chronology
Previous Episode:
"About a Kiss"
Next Episode:
"About a Birthday Party"
About a Boy's Dad
is the tenth episode of
About a Boy
.
[2]
It aired on April 29, 2014.
Overview
[
]
It's a family reunion for Marcus when his dad comes to town for a visit–Marcus is elated when his father, Hugh Womple takes a break from his penguin research in Antarctica to make a surprise visit. While Fiona does her best to mask her tormented attraction, she can't help but notice how consumed Hugh is with his work and his indifference towards anything Marcus is interested in. At Fiona's urging, Will steps in and does his best to encourage some much needed father-son bonding. Meanwhile, Sam's demanding work schedule throws a wrench into their plans for romance.
Episode Summary
[
]
Marcus needs help... a lot of it. He's been assigned to play baseball at his school's field day, and there's nowhere to hide at home plate. After modeling his moves for Will, Marcus is curious - will his fellow students merely make fun of him, or will there be grounds for a smackdown? That's when Fiona delivers big news: Marcus' dad, penguin researcher Hugh, is visiting from Antarctica for three whole days! On cue, Hugh's taxi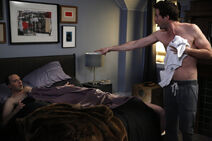 pulls up, and he quickly proves himself to be a very strange man who doesn't know very much about his son. Even curiouser, he has a strangely inexplicable sexual hold over Fiona, who begs Will to come over for Hugh's penguin power point presentation. Will begs off. Dr. Sam might be getting off work early and it's looking like they might consummate their relationship. When Fiona pulls the Marcus card, Will caves and agrees to protect Fiona's virtue by allowing Hugh to sleep in his apartment. This is a decision he immediately regrets, since Hugh sleeps in the nude. It gets worse. In the middle of the night, the leather couch gets too sweaty, so Hugh jumps in bed with Will.
A sleeping Will is stroking Hugh's arm when he's woken by a knock at the door. Dr. Sam is all charged up, having just saved a man's life. She suggests they consummate to celebrate, and it's all systems go, until naked Hugh presents himself to announce that something in Will's bed gave him a rash. Could they do the deed on the couch? Dr. Sam excuses herself, much to Will's chagrin. Sensing Will's frustration, Hugh asks for an open dialogue, so Will advises him to spend some time helping Marcus prepare for field day.
The next day, overly pale Hugh and Marcus sunbathe in the yard, having deciding to forego preparing for field day, since there's no shame in failing at something as meaningless as a ball sport. Outraged, Will tells Fiona everything. Fiona insists Will doesn't understand the situation because he's not a parent.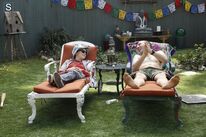 Nevertheless, Will maintains that if Fiona wants Marcus to have a closer relationship with his father, she's got to say something. Fiona gives it a shot, even putting Marcus' problems in penguin terms. Hugh comes around, and father and son have a swell time practicing batting and catching, though Hugh knows little more about baseball than his son.
Late that night, Fiona finds Hugh packing his bags. His regal male captain penguin has disappeared, and he has to return to Antarctica right away - he doesn't even have time to say goodbye to Marcus! Fiona follows Hugh out the door to lay down the line. She's not going to pretend that Hugh is a good dad anymore. Marcus deserves better. For his part, Hugh wishes he could do better, and he's sorry. The next morning, when Will finds his couch empty, he rushes next door to make sure Fiona didn't sleep with Hugh. Fiona tells Will the whole story; now all she can do is try to mitigate the soul-crushing blow Hugh's disappearance will deal on Marcus. Will doesn't think she should soften anything, but when Marcus runs in, he can't help painting Hugh as a mythical penguin hero. Most importantly, before he left, Hugh wanted Marcus to know that regardless of what happens on the ball field, he'll be proud of his son. In the stands, Fiona and Will are thrilled and amazed when Marcus gets his first base hit!
Cast
[
]
Main Cast
[
]
Minor Cast
[
]
Trivia
[
]
Sam and Will tried to have sex for the first time.
Marcus's father comes to visit.
Marcus plays for Oakwood basbeall team.
Hugh doesn't care about Marcus much.
Notes
[
]
Filming for this episode started on March 3, 2014.[3]
Filming ended on March 8, 2014.
Featured Music
[
]
Comeback Kid (theme song)
Try, Tried, Tryin (by Bahamas)
Lost in Time (by Whitley)
Head is a Flame (by Portugal. The men)
Quotes
[
]
To be added.
Gallery
[
]
To view the About a Boy's Dad gallery, click here.
References
[
]