About a Buble

Information

Season 1, Episode 6
Episode Information
Air Date:
April 1, 2014
Viewership:
7.17 million[1]
Prod. Code:
106
Written by:
Cara DiPaolo
Directed by:
Adam Davidson
Episode Chronology
Previous Episode:
"About a Plumber"
Next Episode:
"About a Poker Night"
About a Buble
is sixth episode of
About a Boy
. It aired on April 1, 2014.
Overview
[
]
Marcus pays a visit to the emergency room where Will meets the girl of his dreams. With Fiona  putting in extra hours at work, Marcus finally gets his own house key, but he quickly loses his mom's trust when Will  has to rush him to the emergency room following an untimely incident with a knife. However, Marcus' misfortune has a silver lining for Will when he crosses paths with Dr. Samantha Lake , a beautiful and charming doctor who comes to Marcus' aid. Will is instantly smitten and stops at nothing in his attempts to win her over - even if it means bending the truth.  
Episode Summary
[
]
Marcus has a whole new spring in his step. Now that his mom has a job, he's got his own house key, and every day after school, he's home alone! Fiona's worried, so Marcus keeps in touch by phone, assuring her he's fixing a nice healthy snack. But just as he's cutting into his orange, the knife slips right into his foot! Rather than tell his mom, Marcus hollers for Will, who races him to the ER screaming, "I need a doctor!" He's about to deliver Marcus into the arms of a medical professional, when he spots Dr. Sam Lake - a HOT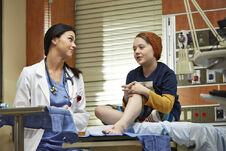 doctor. This emergency just became an opportunity to hook up. Singing Will's praises, Marcus discloses he's a famous songwriter. When Sam steps out, Will lays down some down low: they never EVER talk about "Runaway Sleigh," because he's not that kind of songwriter. Dr. Smoke Show needs to think he's cool. When Sam returns, Marcus immediately tells her Will has written songs for supercool guys, like... Michael Bublé. Luckily, Fiona blows in with all her neuroses, sending Sam running. Will follows Sam, laying it on thick. He's amazed when Sam cuts to the chase. She's blunt when she's tired, and no, she's not going to have sex with him, even though he looks kinda good.
After Marcus is safely home, Will tells Andy all about Sam. Laurie has a warning for Will: he's already lied about writing for Bublé, and women like honesty. It's 2:00 a.m. when Will feels the need to tell Sam the truth, but she steamrolls him, asking him to sing her a song. Will performs a song by Rivvrs - making Sam think he wrote it - and the couple heads out for a late night burger, hitting it off. They almost share their first kiss in a paddleboat! The next day, Will shows Andy his criteria for the perfect girl, written down by his 10-year-old self. By this definition, Sam is the perfect girl for Will! Marcus pops in for advice on his latest problem: after the knife in the foot incident, Fiona is watching his every move, literally, on Skype.
On his follow-up visit with Sam, Marcus tells Sam that his mother has been in a guilt spiral since the accident and is Skyping his every move. When a lovestruck Sam claims Marcus is lucky Will was home to bring him to the hospital, Fiona blows Will's cover. He's just a lazybones and Fiona doubts he writes songs for Bublé and Rivvrs. On a date with Will, Sam tries to get to the bottom of it, urging Will to sing her one of his original songs. When he sings her a song about random objects in the room, Sam stomps out, but not before Will tells her that he doesn't write songs for Bublé or Rivvrs.
Later, Marcus finds Will poised to burn his Perfect Girl notebook on the barbeque. Marcus thinks Will is perfect the way he is - albeit messed up and flawed. Clearly, if Sam truly is the perfect girl for him, she'll come around. In thanks for this wisdom, Will shows Marcus how to set up a Skype loop, so Fiona just sees him doing homework - until she realizes the video is looping. That's when Will pops into Fiona's office with Marcus, who explains he's not her little baby anymore, he's her prepubescent tween. Hugging the oxygen out of him, Fiona apologizes for holding on too tightly. Will proceeds to the hospital to tell Sam the truth. He wrote "Runaway Sleigh" eight years ago, and he hasn't written anything else because he's scared it won't be any good. Hoping for another chance, Will picks up his guitar and sings "Runaway Sleigh," winning a smile and getting the entire waiting room to sing along.
Cast
[
]
Main Cast
[
]
Recurring Cast
[
]
Adrianne Palicki as Dr. Samantha Lake
Treisa Gary as Bev
Curt Collier as Park Security
Ronnie Clark as Drunk Patient
Link Ruiz as Broken Arm Patient
Amelia Cohn as Patient
Trivia
[
]
Will meets his soul mate Dr. Samantha.
Will sang the song that he wrote for the first time.
Marcus drops a knife and it stapped his lef.
Fiona's work place is shown for the first time.
Will goes on a date.
Marcus gets his own house key.
Will shows to Marcus his notebook.
Featured Music
[
]
Comeback Kid (theme song)
I Will Follow you (by Rivvrs)[2]
Runaway Sleigh (christmas song- written by Leonard Jackson)
Walk in the Sunshine (by Bye Bye)
Gettin Better (by Brunswick Studios)
Treasure (by Bruno Mars)
Quotes
[
]
Will: Whoa! Who's that guy with a spring in his step?
Marcus: It's me Will, probably don't regoognize me with my key. My own key.
Will: So mom is finally lousin the old news, hah?
Marcus:Her job has forced the issue, so she has to stay late.
Will: Oh cool, what are you going to do with your new found independence? Rock and Roll all night?..Kiss? Noo? Yeah probably gonna be on your friend resmence now?
Marcus: I am not taking this responsibilty latley, Will. Freedom can not be pesode it must be achived.
Samantha: Oo, What do we have here?
Will: I'm Will.
Samantha: How are you doing buddy? Any numnes?
Will: A little. A little bit.
Samantha: Okay.
Sam: It's a good thing that your dad was at home.
Will: Oh, I'm not his dad, I'm just consurned neighbourh, consured single neighbourh.
Sam: Than it is a good thing that you have a neighbourh.
Marcus: Well, Will is always home, he has time to throdown and waits what kind our just shotie his gonna hammer down next.
Bev: I told him that he can't stay here, but he said that he loves my coffee.
Sam: You are to easy.
References
[
]
Gallery
[
]
To view the About a Buble gallery, click here.
See also Will's Perfect Girl Notebook/Gallery here