About a Godfather

Information

Season 1, Episode 3
Episode Information
Air Date:
March 11, 2014
Viewership:
7.48 million [1]
Prod. Code:
103
Written by:
David M. Israel
Directed by:
Michael Weaver
Episode Chronology
Previous Episode:
"About Total Exuberance"
Next Episode:
"About a Girl"
About a Godfather
is the third episode of
About a Boy
. It aired on March 11, 2014.
Will attempts a much-needed boy's night out with Andy, but complications arise, leaving Will to reach out to Marcus in hopes of salvaging the evening. When Andy later becomes available, he attempts to track down Will, but instead winds up bonding over the joys of parenting with Fiona. Meanwhile, Andy and his reluctant wife Laurie solicit Will to be godfather to their son Jonah. 
Episode Summary
Edit
Since most of Will's friends have kids, they're all bailing on boys' night out. Thus, Will shows up at Andy's an hour early so that he can't flake. Andy takes the opportunity to ask Will to be godfather to baby Jason. Knowing Will's penchant for shirking responsibility, Andy's wife, Laurie, is not at all on board with the idea,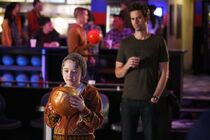 and for that matter, neither is Will. All he wants to do is go bowling. Five minutes into the drive to the bowling alley, Andy's phone rings. He has to go home to because his daughter, Madison, has to poop, and she'll only do it with him standing next to her. Will refuses to stop the car, so Andy hops out at a red light and runs home. Returning home, Will calls his entire phone list. No one will commit, so he asks Fiona if he can take Marcus bowling.
Marcus couldn't be more psyched, but he's not much of a bowler. After his daughter poops, Andy goes to Will's place and knocks on his door. Fiona pops her head out, and within seconds she and Andy are bonding over wine and parental poop stories. Fiona's stunned to learn Will doesn't know the name of Andy's kids and rejected his request to be a godfather. By the time Will and Marcus return home, Andy and Fiona are painting their toenails. Annoyed with Will, Andy bails once again, further convincing Will that Andy is a lame friend. Of course, it falls to Fiona to explain what's really happening in Andy's life, and how stressful his role as paterfamilias really is.
Trying his hardest to be respectable, Will politely offers to take up the mantle of godfatherdom, but Laurie insists the offer has been rescinded. When she lays into Will, he in turn outs Andy for drinking two bottles of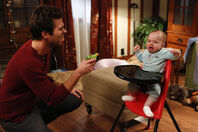 Shiraz while painting his toenails with Fiona. Afterwards, the guys level with each other. Everything would have been okay if Will could have waited an hour for Andy to go bowling; Will thinks Andy never has time for him anymore. Will's stunned to realize he doesn't know Andy's kids' names. While he may be Andy's best friend, he's not a good friend. Will complains about the whole mess to Marcus, who refuses to play any more foosball until Will works things out with Andy.
Once again, Will approaches Andy and Laurie, offering to prove his friendship by babysitting - and learning the kids names! Laurie refuses to leave the house, so Will agrees to watch the kids while the couple catches up on Homeland in their bedroom. Will's ready to run upstairs when Madison announces she needs her dad to poop, then has a change of heart. Andy and Laurie walk into the bathroom just as Madison is completing her business and telling Will she loves him for helping. The godfather is back in business!
Main Cast
Edit
Recurring Cast
Edit
Jonah Andy's son needs a godfather.
Andy and Fiona really grip together.
Will babysits for the first time.
Will only knows Jonah's name.
Madison can't go potty if her dady isn't next to her.
Will bonds with Andy's kids.
The table-read was on December 16, 2014
Filming for this episode began on December 17, 2014
When Will and Marcus are playing foosball, the album behind and to the right of Marcus changes between shots.
Featured Music
Edit
Comeback Kid (theme song)
White Walls (by Macklemore, Hollis, Ryan Lewis)
Old Boy (by Brick +Mortar)
Time (by Fast Romantics)
The Kids are OK (by Psychic Friend)
Money Make her Smile (by Bruno Mars)
It's the Good Life (by Ellm)
Well All Right (by Kid Rock)
Nani Kooalu (by Jess Uke)
I've got You  (by Drew Holcomb and The Neighbourhs)
Will: You are being weardly quiet. What's up?
Andy: My child has no god parent Will.
Will: Oh, let's just move on ok? We're going bowling tonight!
Fiona: Oh trouble in paradise.
Will: No it's just Andy bailed on me tonight again.
Will: Hello, just droping off...What a hell is going on here?
Fiona: He darling y
Will: Did you paint your toe nails?
Andy: Testing colors. Nothing is going on. Andy Andy is enyoing of a considered woman.
Marcus: Nice bailing tonight.
Madison: Aaaa
Andy: Why are you downstairs? Honey. Why are you...You are gotta be kidding me.
Will: Oh my god.
Andy: What are you doing here, we were supposed to meet in a bowling hour in an hour.
Will: First Andy bails on me, and now he is not answering any of my texts, what's that about?
Marcus: Thanks for bringing me here. Oh you should feel my pulse, this is the most excited, I've ever been.
Will: Yeah, is it more excited than a pupping baby?
Marcus: Yes.
Will: Oh right dude, let's see it.
Marcus: Just straight down the middle...argggg...Okay third time is a shot.
Will: Oh right, buddy do it.
Marcus: Got a really good feeling bout this one Will.
Will: Yeah, me too.
References
Edit
To view the About a Godfather gallery, click here.
Community content is available under
CC-BY-SA
unless otherwise noted.