About a Plumber

Information

Season 1, Episode 5
Episode Information
Air Date:
March 25, 2014
Viewership:
7.41 million [1]
Prod. Code:
105
Written by:
Sarah Watson
Directed by:
Mike Weaver
Episode Chronology
Previous Episode:
"About a Girl"
Next Episode:
"About a Buble"
About a Plumber
is fifth episode of
About a Boy
.
[2]
It aired on March 25, 2014.
Overview
[
]
When Marcus starts hinting that Will and Fiona should start dating each another, Will does everything in his power to set him straight. Meanwhile, Fiona gets advice from Dakota to get back into the dating scene, and with very little game, seizes the opportunity by asking out her plumber - with results she didn't quite anticipate.  
Episode Summary
[
]
Will and Marcus are enjoying a friendly game of badminton over the hedge when Marcus breaks the mood by suggesting all three of them get a dog. Will does his best to explain he's not part of Marcus' family, which is when Marcus insists he will be when he marries Fiona. Will marches into Fiona's kitchen to correct the situation. She tells him not to worry; number one, she'd never date Will in a million years. And number two, as a mother, she doesn't date. This whole dad thing is Will's fault, and it's high time he starts acting more like a neighbor than a dad! Realizing Fiona has been celibate for 11 years, Will begs her to get laid.
After a yoga session, Fiona asks Dakota if it's weird that she wants to suck her toes.
Grabbing her phone, Dakota asks Fiona to go ahead and worship her feet. Sadly, Dakota thinks this I a bit weird. But, Dakota records anyway on her phone. Dakota takes Fiona's hand and places it on her pussy.

Finding Will and Andy at the grill, Marcus asks to learn the ropes of grilling. Intent on setting boundaries, Will advises Marcus to ask Fiona to teach him, then refuses to play badminton. Dakota is on hand when Lou the plumber arrives, which is a good thing, because she has to walk Lou through asking for a date, and then she has to accept the invitation for Fiona. Later, Fiona broaches the subject of dating with Marcus, who assumes she's referring to Will. Displeased when Lou shows up to take Fiona to dinner, Marcus proclaims him merely a blip on the road to Willsville. Long years out of the dating game, Fiona is beyond awkward, and Lou doesn't really have a way with the ladies. Once they leave, Marcus rushes next door, where Will gets serious, insisting he will never like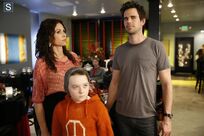 Fiona in "that way." This entails an explanation, which somewhat resembles the classic "sex talk," stunning Marcus into near-catatonia. The veil has been lifted... forcing Marcus onto his bicycle, pedaling maniacally towards the restaurant where Fiona and Lou are suffering through their date. Marcus runs into the restaurant screaming, "Don't you dare intercourse her!" Fiona is just asking where Marcus heard that word when Will runs in, hoping to bring Marcus home. The ensuing argument sends Lou packing.
Back at home, Fiona lays into Will for scooping the birds and bees conversation with Marcus, which is every parent's right - not a neighbor's rite. Will softens; the truth is he's attached to Marcus, and sometimes little dudes need the wisdom of big dudes. Fiona and Will decide to spell it out for Marcus: they're never getting married!
Cast
[
]
Main Cast
[
]
Recurring Cast
[
]
Leslies Bibbas Dakota
Rachel Breitag as Shasta
Amelia Cohn as Restaurant Patron
Will Sasso as Lou
Unknown as Margarit
Trivia
[
]
Will thinks that Marcus is 9 years old.
Fiona haven't date since she broke up with her husband.
Marcus would like Fiona and Will to be a couple.
Dakota loves yoga.
Marcus gets a life lesson from Will.
Notes
[
]
The table read for this episode was on January 7, 2014.[3]
This episode started filming on January 8, 2014 and ended on January 13, 2014.
Featured Music
[
]
Comeback Kid (theme song)
Hey Na Na (by Katie Herzig)
Cured of Youth (by Tennis)
Poppin Bottles (by Skully Boyz)
Girls (by The 1975)
Blissful Ignorance (by Ourlives)
Quotes
[
]
Will:
Ready, big boy? Here comes the heat.....Oh yeah.
Marcus:
It's coming at you.
Will: Whatever..... Oh you're point.
Marcus: I scored?

Will:
I told you you're gonna score. That's was awesome, over fantastical. High five.
Marcus:
Yeah.
Fiona: Is it weird that I haven't got sex since Marcus's dad?
Dakota:Why.
Fiona: What
Will: Fiona we, we have a situation.
Fiona:?Is Marcus okay?
Will: Nope. He thinks that I'm going to be his father. Fiona: Why does he think that?
Will: Because. he's convinced that we are gonna start dating.
Fiona: That's ridicules, I would never date you...ever...never
Will: Well Marcus does not know that.
Fiona: I think that I know my son.
Will: Well, I think I know my neighbor.
Fiona: Okay, but besides that. Marcus knows that I don't date.
WIll: Oh excuse me.
Fiona: Oh I'm sorry , you don't understand that in some way. I know your life is a revolving door of sexual intilese.
Will: That's correct.
Fiona: But normal people, when they have children things change, you take the sexual part of yourself and you put it on a pause.
Will: Oh and exactly how long have you been on pause?
Fiona: I'm not gonna tell you that
Will: Since Marcus's dad? Tell me you haven't been on sexual pause since Marcus's dad.
Fiona: Actually this is a good conversion that we are having right now. Because you need to stop acting like a father and starting more like a neighbor. Because you're relationship wih my son is really unhealthy.
Will: Says Norma Bates.
Gallery
[
]
To view the About a Plumber gallery, click here.
References
[
]