About a Slopmaster

Information

Season 1, Episode 8
Episode Information
Air Date:
April 15, 2014
Viewership:
6.99 million
Prod. Code:
108
Written by:
Carrie Kemper
Directed by:
Jeff Melman
Episode Chronology
Previous Episode:
"About a Poker Night"
Next Episode:
"About a Kiss"
About a Slopmaster
is the eight episode of
About a Boy
. It aired on April 15, 2014.
A slopmaster is a personne who lives in te street and poops everywhere. Fiona  volunteers to run a project for Marcus's class - a miniature society modeled after Dickensian London. Wanting to be King of the mock economy, Fiona instead selects him as the lowly slopmaster, much to his dismay, prompting him to figure out a clever yet questionable solution to turn things around. Meanwhile, Will  takes Marcus out on a spending spree, thanks to his latest royalty check and then does his best to throw the perfect party to impress Sam.  
Episode Summary
[
]
Marcus is excited; his mom is volunteering at school every day for the next week, helping out with a yearly social experiment called Mini-Society. Will is also excited, having just received his latest wantonly enormous royalty check. Thus enriched, Will takes Andy and Marcus to the mall to spend some of his filthy lucre... on a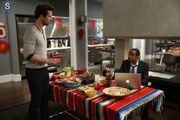 margarita machine, because Dr. Sam loves margaritas and maybe the machine will help lure her to his house for a party? When Will sends Marcus off to buy some giant remote-controlled shark balloons, Marcus realizes Will's royalty checks are now his third favorite things after hope and love.
Concerned that Will exemplifies the wrong values regarding money, Fiona hopes Marcus will get a job in Mini-Society that will correct this. When Marcus learns that King is one of the jobs in Dickensian-era Mini-Society, he sets his sights Will-ishly high, and when Fiona chooses his job out of a hat in her role as volunteer, King comes up. However, determined to give Marcus a lesson he won't forget, Fiona instead designates him Slopmaster, the lowliest job of the lot. Later, Will finds Marcus cradling his head in despair, so he offers $20 to offset the misery. Having been in Slopmaster straits before "Runaway Sleigh," Will can relate, and he advises Marcus to take initiative and come up with a scheme to make some fake money.
Fiona's thrilled to hear Marcus is researching ways to raise his station in Mini-Society life. While she brainstorms ways for Marcus to earn pounds doing tasks for other Mini-Society kids, a genius idea strikes him. Finding the Photoshop file for Mini-Society pound notes, Marcus hits print, sending the filthy lucre to Will's printer. On Market Day, Marcus spends big, making sure his mom is looking in the other direction. He's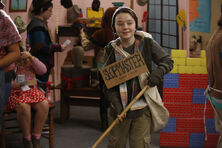 just tucking into one of eight mini-cupcakes he's bought, when Fiona congratulates him on his joy and humility and rewards him with one mini-cupcake. That's when Will knocks on the dumbwaiter door with a surprise for Marcus - a new iPad, as recompense for having to be Slopmaster! Fiona's jaw drops.
When Dr. Sam declines Will's invitation to the margarita party at his house because of a double shift, he bribes Bev, the ER manager, to schedule time off for Dr. Sam at 2 p.m. that afternoon. It's short notice, so Will's hoping the mariachi band can park in Fiona's driveway - but Fiona has her own problems. Someone's counterfeiting money in Mini-Society! When Will offers $20 to grease the parking wheels, Fiona freaks. You can't solve problems with money!
Dr. Sam shows up at Will's door slightly confused. She thought his party invite was merely a ploy to lure her to his apartment, but when she realizes the party is real, she's sold. This could be the sweetest thing anyone's ever done for her. It's all going swimmingly until Will lets it drop that she no longer has her 5 p.m. shift; Bev was supposed to give it to another doctor. Will figures his bribe makes the deal even sweeter, but Dr. Sam feels cheap - Will's trying to buy her time! Will backpedals and declares his hatred for money just as Marcus sends another load of Mini-Society pound notes through his printer. Begging Sam to stay, Will
explains he has to rush to school to save a Slopmaster. Meanwhile, Fiona is explaining to the angry principal that she has laid a trap for the counterfeiter, which of course, outs Marcus. The other kids are just getting ready to stone Marcus when Will arrives to plead the boy's case. The counterfeiting situation is all Will's fault; the truth is money doesn't always make a person happy... a lesson he just learned today.
Will returns home to find an empty house - and a note from Dr. Sam, which promises all is not lost. In the other half of the duplex, Fiona admits to Marcus she made him Slopmaster because she wanted him to learn to be happy with very little, since she can't afford to give him anything with an "i" in its name. Marcus promises he doesn't need those things; all he needs is his mum. Ready for his Dickensian punishment, Marcus returns to school to scrape gum off all the assembly hall folding chairs. Will arrives to share the punishment, but when the janitor asks for a bribe to finish the job, Will admits he has a C-note in his pocket. Nevertheless, the final decision is Marcus' to make... and Marcus opts for the satisfaction of a job well done.
Cast
[
]
Main Cast
[
]
Recurring Cast
[
]
Featured Music
[
]
Comeback Kid (theme song)
Paint the World (by The Hot Damns)
I Really Want You (A Great Big World)
No Vale La Pena 8recorded on set)
I'll be Your Man (by The Elected)
Trivia
[
]
The table read for this episode was on February 9, 2014.
This episode started filming on February 10, 2014.[1]
Quotes
[
]
Fiona:Honey do you think that there's enaught gliter on it?
Marcus: There's not enazght glitter in the world to express how excited I am. My mom is coming to my school to voulentire for an intire week.
Will: Oh yeah. Oh yeah. Hello pretty come to papa.
Marcus: What's in the evelomp Will?
Will: Well, every time Runaway Slide is played anywhere in the world I get royelties. And then once a conter I get a big ass check in a mail.
Marcus: Wow, having a big as.
Fiona: Yeah money isn't briberd mater darling.
Marcus:Wow this is like the best day ever. I want to be an independeltly whelty when I grow up.
Fiona: Darling, I want you to understand that there's great joy that comes from earning money that job well done.
Marcus: There's also a joy from buying a 500 dollar margarita machine to bag a babe.
Fiona: What did you just say?
Marcus: I, Im not actually sure, I was just repeating.
Fiona: And next stop is Hannah. Hannah will be the candlemaker.
Hannah: A candle maker as a person who makes candles?When my mom was parent voulenteer for my sister's class the theme was hunger games and my sister got to be Distrect Wantrubed.
Will: Whoa, Marcus why so glombed?
Marcus: Will your not gonna believe this I got asigned slopmaster in the kenzie englend.
Will: What is a slopmaster?
Marcus: As in master of the slop. What's confusing about that?
Gallery
[
]
To view the About a Slopmaster gallery, click here.
See also Fiona's Mini-Society Signs/Gallery here.
References
[
]