Pilot

Information

Season 1, Episode 1
Episode Information
Air Date:
February 22, 2014
Viewership:
8.26 million[1]
Prod. Code:
101
Written by:
Jason Katims
Directed by:
Jon Favreau
Episode Chronology
Next Episode:
"About Total Exuberance"
Pilot is the first episode of About a Boy. It aired on February 22, 2014.
Successful songwriter and bachelor Will Freeman lives a carefree life as the "ultimate man-child". His perfect world is turned upside down when single mom Fiona and her 11-year-old son Marcus move in next door.
Episode Summary
Edit
On a San Francisco trolley, Will's trying to keep his breakfast down, watching his best friend Andy tend to his young children. Kids aren't Will's bag, so when he spies a beautiful woman with a cello, he hops off the trolley to greet her. Believe it or not, Will makes
the pick-up line "Cell-o!" work, but not without bungling his way into Dakota's single parents' support group meeting. Within minutes, Will is talking about his "son" Jonah, which is enough to get Dakota into his bed. Sadly, Dakota gets a call from school, so it's coitus interruptus. When Dakota rushes off without leaving her phone number, Will runs out to the street in his boxers - just in time to meet the new neighbors, British single mom Fiona and her oddball 11-year-old son Marcus.
Later that afternoon, Fiona is about to meditate in the backyard when a waft of meat smoke from Will's barbecue hits her nostrils. Fiona is a vegan, and Will is a daily barbecuer; so they're officially off to a bad start. Stating that Marcus is at a critically impressionable age, Fiona asks womanizer Will to steer clear, but when Marcus knocks on
Will's door with three bullies on his trail, Will lets him in. Marcus is somewhat beyond precocious, so he knows all about Will's past - his band Sriracha and the hit song "Runaway Sleigh," the proceeds of which have granted Will a life of leisure. When Dakota pops by, she immediately assumes she's meeting Will's son, Jonah. Intent on seducing Dakota, Will asks Marcus to play along, and he does beautifully, whispering, "I own you." They're going to be great friends!
Marcus wastes no time insinuating himself into Will's life after school. Before long, he's watching football, eating barbecued ribs and drinking Will's orange soda - all verboten in Fiona's home. Since the kids at school think Marcus is weird and all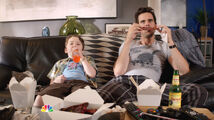 Will's friends are getting married, a fledgling bromance is born. Having signed up for the middle school talent show to cheer up his somewhat depressed mom, Marcus invites Will, who claims he's sworn off talent shows. Promising he's not trying to get Will together with his mom, Marcus insists Will come over for dinner, where mother and son practice his talent show song, "Beautiful." Will holds it together until he and Marcus crack up over the seitan spare ribs. It's been a bad week for Fiona, so after asking Will to leave, she breaks down in tears. Rather than go with his gut, Will stays, playing nice neighbor for Marcus' sake.
When Dakota stops by with her daughters, hoping to meet Jonah and promising dividends, Will runs next door to get Marcus. Dakota smacks some steaks on the grill, so Fiona comes running. She instantly reads the scene, telling Will, "You used Marcus! You forced him to eat meat so you could have sex with her!" Dakota leaves in a fury as Fiona pulls Marcus over the fence, explaining Will is not his friend. When Marcus pleads with Will to correct his mother, Will chickens out. He's not Marcus' friend.
Will tells Andy the fallout with Marcus is all for the best, but Andy knows Will's M.O. The minute things get sticky, Will bails;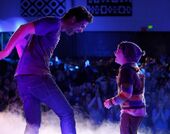 thus there's no one in his life he cares about. Realizing Marcus is about to take the talent show stage at that very moment, Will grabs Andy and runs for the school to warn Fiona that Marcus is about to commit social suicide. Will tries to stop Marcus, but since Will is no longer his friend, Marcus takes the stage and dedicates his performance to his best friend, his mother. The kids start throwing things, so Will swings into action. Andy takes over the lights, and Will starts up a rock soundtrack to make Marcus' song a heck of a lot cooler. Marcus gets a standing O; the friendship is back on, and Will makes points with both Fiona and Dakota!
Main Cast
Edit
Guest Cast
Edit
Tiphani Abney as Single Mom
Mackenzie Aladjem as Makala
Jaden Alexander as Cable Car Passenger
Aidan Carberry as Opening Dancer
Harley Cunningham as Bully #1
Anjelah Johnson-Reyes as Laurie
Gina Manegio as Single Mother
Mahal Montoya as Pedestrian
Makenzie Moss as Eden
Will lies that he is a single parent to Dakota.
Marcus and Fiona comes to the neighborhood.
Marcus tells Will that kids make fun of him in school.
Dakota mixes Marcus with Jonah, Will's pretended son.
Marcus eats ribs for the first time.
Will loves celo.
Marcus sings at the talent show.
Andy was once a DJ.
Fiona likes to meditate.
Featured Music
Edit
Comeback Kid (theme song)
Stay at home (by Yellow Ostrich)
Hoochie Coochie (by Band of Skulls)
Take us out (Jerry Goldsmith)
What Makes you Beautiful (by Marcus and Will- One Direction)
The 59th Street Bridge Song (by Simon & garfunkel)
'S Wonderful (by Joao Gilberto)
Verbig the Noun (by Bassnecatar)
The table read for this episode was on December 2, 2013.[2]
The filming for this episode began on December 9, 2013.[3]
Will: Dude is not taking it.
Andy: His name is Jonah and raising a child is the greatest honor that person can have, so take care of him.
,
Dakota: I just want to let you know I'm not a hooker.
Will: Great, so this is free?
Fiona: Excuse me. Oh, how nice to see your clothes.
Will: Yeah, I had a situation.
Marcus: Mom I found it, I found the sweater, it was in the big suitcase the whole time.
Fiona: That is great, now you can wear it to school tommorow.
Marcus: I'm Marcus. Me and my mom moved to San Francisco to improve our lives and discover ourselves.
Marcus: Hey, got any of that cheese left?
Will: Marcus. Yeah, I don't want to give you a wrong idea, we are not gonna be friends.
Marcus: I think we can become friends and honestly I think were already pretty close.
To view the Pilot gallery, click here.
References
Edit
Community content is available under
CC-BY-SA
unless otherwise noted.