TJ

Character
General Information
Gender:
Male
Age:
Over 30's
Hair color:
Brown
Eye color:
Brown
Other Information
Occupation:
Unemployed
Interests:
Women
Poker Night
Nicknames:
TJ
Relatives
Friends:
Show Information
Portrayed by:
Zach Cregger
First appearance:
"About Total Exuberance"
Latest appearance:
"

About a House for Sale

"
TJ is one of the reccuring characters in series About a Boy.
Appearance
[
]
TJ appeard in About Toatl Exuberance on Lil Jon's party. Will and Andy came into the party becouse of him, because TJ got them an invitation. At the party he was talking to Will about their band Saracha, because he was with Andy and him in it. He wanted to make a good publicity, so he grabbed a women and lift her so a photagrapher could take a picture of him.
In About a Poker Night he came to Will's poker night to play poker with him. When he came to the party he was excited to drink and party. He was then sitting with the boys at the poker table and they were playing it. But then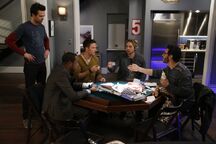 TJ needed to go to the bathroom but then he went outside where he saw FIona and he invited her to thepoker night. Will wasn't happy and he was angry to TJ because he brouth her. When Fiona showd jogga to Richard TJ took off his shirt and then he joined them. He really became friend with Fiona, when she left he and Richard went to her house where they  had drink.
Trivia
[
]
He was with Andy and Will in Sriracha.
He likes women.
He likes poker.
He never had problems with a woman.
He is single.
He often jokes.
[

]